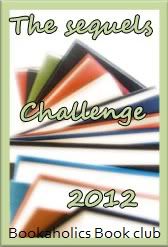 Mist over at
Bookaholics Book Club
has just come up with an awesome challenge that sounds perfect for me! It is based all around reading sequels which is ideal as I have a ton of series that I've started and then fallen behind on (some of which have now finished and have spin-off series of their own.
Vampire Academy
I'm looking at you!)
It isn't that I didn't enjoy the books that I've read, it's just I tend to get distracted by shiny new books and series and then before I know it I've got 4 or 5 books to catch up on in a series that I loved (like the
Otherworld
books by Kelley Armstrong). The other factor is series I start and then realise there are loads of books for me to read (*cough*
Discworld
*cough*).
The rules of the challenge are really simple: read at least 24 sequels next year! There will be a giveaway at the end of the year which for me is just an awesome bonus plus motivation to keep reading those sequels!
If you'd like to join, Mist's post can be found
here
.