I'm really excited to reveal my awesome new look courtesy of Lori from Imagination Designs. I love it and Lori is great to work with. She even put up with me changing the background over and over while sounding like Goldilocks :)
If any other bloggers out there are looking for a designer, Lori has my vote! Her button is below in case you'd like to check out her site.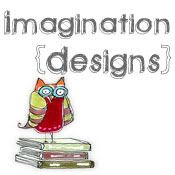 So what do you guys think of the new look?